Small Price… Thoughtful Improvements
Sometimes the smallest of home improvements can make a huge difference…especially when they are thoughtful additions. They don't cost much, and may not make a huge difference in the overall appeal of the home, and certainly not in the price of the home, but they can add a nice touch that will cause a buyer to look twice. Consider some of these ideas:
1. USB Outlets. For $25 these would be great in a home office or kitchen nook or bedroom. I want one. Or a few.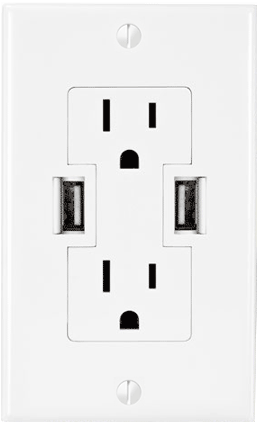 2.  Sealing and Insulating the shell of your home can save you as much as 10% on your energy bills. A Step-by-Step DIY Guide from Energy Star tells you how. Savvy buyers will notice the effort and appreciate the energy savings. A 12 oz can of Gaps and Cracks Insulating Foam costs $4; Window and Door Insulating Foam costs $5; and a caulk gun and tube of caulk is $10 to $15.
3. A programmable thermostat is between $50 and $150. Again, buyers will appreciate it. And you might appreciated it with reduced energy costs.
4. A yard spruce up will cost you some elbow grease and maybe some weed killer, $25; some grass seed, $25 to $50; and some pretty flowers… $25 to $200. But the impact will be worth so much more. Studies show that within the first 30 seconds after entering a home the buyer has already decided whether or not they want to buy it. First impressions count.
5. And last, but not least, a coat of paint does miraculous things. A can of paint can be had for under $25. An afternoon of work will make a room clean and fresh.